CURS100 (100 Ohm Current Terminal Input Module)
Overview
The CURS100 enables your Campbell Scientific data logger to measure a sensor or output device that outputs a current signal (for example, 4 to 20 mA). It converts the current signal to a voltage signal.
Benefits and Features
Easy to install or remove
Connects directly into data logger input terminals
Low power consumption
Detailed Description
The CURS100 uses a 100 Ω resistor for the current shunt that allows currents up to 25 mA to be read on a ±2500 mV range (CR10X, CR510) and currents up to 50 mA to be read on a ±5000 mV range.
Schematic for CURS100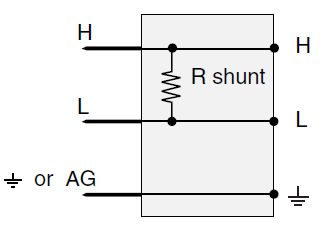 CURS100-to-Sensor Hookup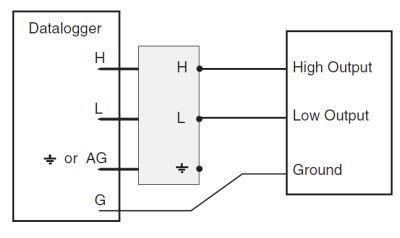 Specifications
| | |
| --- | --- |
| Used With | Sensors that output a current signal (4 to 20 mA) |
| Resistance | 100 Ω (shunt—bulk metal foil) |
| Tolerance | ±0.01% (@ 25°C) |
| Power Rating | 0.25 W |
| Maximum Temperature Coefficient | ±0.8 ppm/°C |
| Dimensions | 1.5 x 1.5 x 2.7 cm (0.6 x 0.6 x 1.0 in.) for body with prongs |
| Weight | 6 g (0.2 oz) |
Compatibility
Note: The following shows notable compatibility information. It is not a comprehensive list of all compatible or incompatible products.
Additional Compatibility Information
Multiplexers
Our multiplexers are compatible with the CURS100.
Data Logger Considerations
Current CR10X Wiring Panels can accommodate both the CURS100 and the cover associated with the CR10XTCR (reference thermistor for thermocouple measurements). Specifically, the physical configuration of the thermocouple cover, the data logger input terminals, and the terminal input modules allow sufficient room for the cover to be used with the CURS100 attached. In contrast, older CR10TCR covers are not deep enough.
Programming
The CURS100 output is measured with VoltDiff Instruction in CRBasic and with Instruction 2 (Differential Voltage) in Edlog. The CURS100 consumes one differential analog input; an adjacent analog ground channel accepts the analog "ground prong" of the CURS100. Not all data logger terminal strips have this sequence on all channels, so please check your data logger's wiring panel to confirm channel assignments, especially if you plan to use multiple terminal input modules.